Volvos have never been known as frugal motors but that could change with the announcement of two new powertrain options for Volvo V40 range.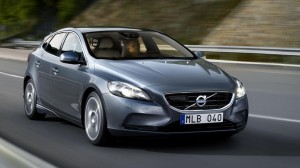 The Volvo V40 range gets two new models
In 2013, buyers of the Volvo V40 will have the choice of the D2 diesel, with automatic transmission, which will deliver economy of 72.4mpg. For the size and weight of the Volvo V40, that's really quite impressive. The CO2 figures for the engine are 102g/km.
The R-Design version of this car will deliver economy of 68.9mpg and emissions of 108g/km.
The manual gearbox versions of the new models of the Volvo V40 range bring similar economy and emissions figures.
A second option for the Volvo V40 range is the T2 which will deliver 53.3mpg and has emissions of 124g/km.
The T2 is a four-cylinder, 1.6-litre engine and the Volvo V40 T2 has 120hp and 240 Nm of torque. CO2 emissions with the manual gearbox are 124g/km, which translates into fuel consumption of 53.3mpg.
The Volvo V40 range also added options of the new Sensus Connected Touch system with unique on-line possibilities, including voice-activated Spotify.
The new system enables connectivity and Internet in the car and turns the 7-inch display into a state-of-the-art infrared, beam-scanned touch screen that can be used even when wearing gloves – a world first in cars and handy in winter.
Connection is made either via a car-mounted 3G/4G dongle or the driver's mobile phone (which means you should be prepared to lose the signal frequently).
Prices for the new engines, automatic option and Sensus Connected Touch will be announced next month – when the order books also open.
The Connection is made either via a car-mounted 3G/4G dongle or the driver's mobile phone.
The Volvo V40 is a great car and the two new additions are quite impressive – but check how much they will cost to lease because I'm betting this is going to be the cheapest way to actually own one.