It's a cracking car and sales figures for the last three months of 2012 show the Ford Focus ST is the best selling hot hatch in Europe.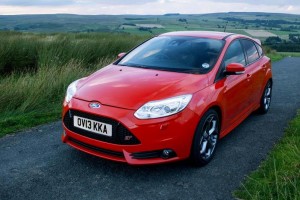 The best selling Ford Focus ST
The Ford Focus ST managed to account for 44% of all hot hatch sales – ahead of the VW Golf GTI on 33% and the Renault Megane Sport with 12%.
The car occupies the number one slot in the UK and Denmark, Norway, Finland, Hungary and Switzerland and the UK.
The Ford Focus ST has picked up a range of accolades, including Top Gear's 'Hot Hatch of the Year'.
This is the third generation Focus ST which went on sale last summer.
It's equipped with a 2.0-litre EcoBoost 250PS engine, and the Ford Focus ST is the firm's first truly global performance car, after being launched in North America last year and being introduced in the Asia Pacific regions this year.
Surprisingly, for me at least, the most popular for buyers of the Ford Focus ST is Frozen White (41%), followed by Panther Black (28%) and Tangerine Scream (17%).
Ford has sold a total of 3,819 new Focus STs in Europe since launch – 74% hatchbacks and 26% wagons.
Ford is extending the ST range with the introduction of the new 180PS Fiesta ST this month, the fastest-ever production Fiesta that achieves 0-62mph in 6.9 seconds and 137mph top speed.
That model is powered by a 1.6-litre EcoBoost engine which delivers the same "fun-to-drive" experience as the Ford Focus ST  and the Fiesta ST also offers a new chassis, steering and brakes as well as enhanced Torque Vectoring Control and 3-mode Electronic Stability Control.