Honda has taken the wraps off the Civic Tourer Concept at the Geneva Motor Show and it provides strong hints to the exterior design of the production model.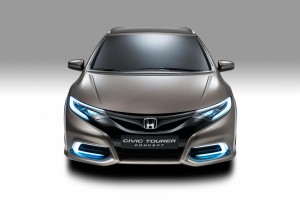 THE NEW HONDA CIVIC TOURER?
The new Honda Civic Tourer will make its debut at September's Frankfurt Motor Show and be available next year.
Essentially, there won't be much difference between the Honda Civic Tourer pictured here and next year's production version.
The Honda Civic Tourer Concept shares many of the same features as the ninth generation Civic hatchback model which was launched in late 2011. It has a sophisticated, aerodynamic body that creates a clean, dynamic look.
With a distinctive profile amongst its competitors, the Honda Civic Tourer Concept has a low and wide stance giving it a sporty appearance which is complemented by a sleek cabin style also found on the Civic hatchback.
The car also follows the same design direction as previous Honda Tourer derivatives such as the Accord Tourer and Civic Aero deck which sought to offer smooth design combined with practical and class leading cargo space.
The production version of the Honda Civic Tourer will be in dealerships early next year and will be built alongside the hatchback model in Honda's production facility in Swindon, Wiltshire.
That's not the only good news from Honda since they've also revealed that they are about to start track testing their new Civic Type R at the Nurburgring in a few months.
Last year, Honda confirmed the introduction of an all-new Civic Type R for Europe which would have the technologies from the firm's World Touring Car Championship Civic.
Now Honda is saying that development is progressing well and that testing at the Nurburgring will begin soon.
Like the Honda Civic Tourer, the Honda Civic Type R model will be built in Swindon alongside the rest of the Civic range.