Ford has revealed that it has sold more than 1,850 of its all-new Ford Kuga models before dealer deliveries have even begun and 1,600 of those are to private buyers .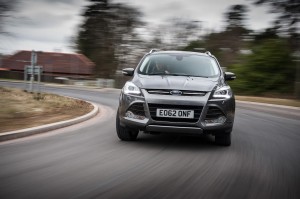 Ford's new Kuga
Bizarrely, the majority of buyers have ordered one without even taking it for a test drive.
And more than 85 per cent of sales to British customers are the top Titanium and Titanium X models.
The Kuga is an impressive car and 98 per cent of the pre-orders are specified with optional extras such as driver assist technologies with are costing buyers another £1,000.
The car is fitted with the impressive 1.6litre turbo-powered EcoBoost engine which is making its debut on the Kuga.
The all-new Kuga builds on the success of its predecessor with a sophisticated design, elevated driving dynamics with an inventory of sophisticated driver-assistance systems including Torque Vectoring Control, spacious rear package with greater flexibility, a wider choice of low CO2 powertrains, a wealth of smart technologies and the five-star Euro NCAP safety rating.
Overwhelming demand for the Kuga's top Titanium and Titanium X models has already prompted Ford to consider extending the range further upwards with a new flagship model later this year.
Prices for the Ford Kuga start at £20,895 on-the-road (though, from experience, it might be worth checking out the leasing packages available for the Kuga before putting an order in).