An interactive map which shows where UK traffic accidents have happened sounds like a really good idea, doesn't it? It is just a shame that someone else thought of it before I did.
It was created by Osbornes Solicitors, and takes into account the Government's 2011 Road Safety Accident data. However, they now also want your information if you have been involved in a car or bike accident in the UK. This will help make it an ever more comprehensive resource for all of us.
Check All of the Information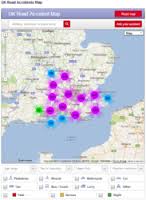 If you want to use the map then it is free and easy to navigate around. You can filter the search results so that you see how serious the accidents in question were, the prevailing weather conditions and even the kind of vehicle involved in the prang.
This information is being collated in order to find out where most accidents tend to happen and could also be useful in future road safety campaigns.
My only UK bash came in my home town on the West coast of sunny Scotland. I just had a look at the area and saw that it has a pretty high accidents figure for a town of its size. In fact, when I zoomed in closer I noticed that there are 2 accidents flagged right where someone ran into the back of me at traffic lights back in about 1998.
This made me wonder whether there are stretches of road like this across the UK where there are accidents every single year. In might be that they are such minor crashes that nothing every gets done it or really pays that much attention. Maybe this map will help us see trends like this, so head along and stick on your data if you have had a traffic accident.
It can be found at http://www.osbornes.net/ukroadaccidentmap.