It's proved to be one of Citroen's most popular ever cars with more than three million models sold and now a new version should win an army of fans.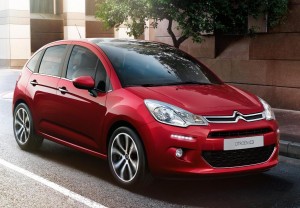 Citroen's new C3
The new Citroen C3 has new styling, interior design, better technology and improved engine performance – it's PureTech petrol engines offer 15% power increase and a 25% cut in fuel consumption.
This latest Citroën C3, which is set for launch this summer, reasserts its unique qualities with a panoramic windscreen, a revitalised front end and new tail lights.
There's also a new reversing camera to make manoeuvring easier.
Along with a new 'face', Citroen has also introduced bumper-mounted LED daytime running lights.
The C3 is one of the most compact vehicles in its segment but it still manages to feel light and airy inside. It's perfect for city driving and offers a spacious and practical interior.
It also has one of the class's biggest boots with lots of other storage compartments dotted around the car.
The seats are comfy and give a good all-round view of the road (though I had issues with the 'A' pillars in the old model partially obscuring the view).
Other gizmos on board include parking sensors, an MP3 audio system, Bluetooth and the eMyWay navigation system.
The VTi 68 and VTi 82 PureTech engines achieve impressively low fuel consumption, between 62.8 and 65.7mpg, and CO2 emissions between 99 and 104g/km. A VTi 120 engine is also available with a manual or automatic gearbox.
In addition, the new Citroën C3 will be available in the UK with four diesel engines – HDi 70, e-HDi 70, HDi 90 and e-HDi 115. The three powerplants with the brand's micro-hybrid e-HDi technology boast the most efficient Stop/ Start system on the market with some of the best fuel efficiency and lowest CO2 emissions in the class – from as low as 87 g/km.
Not everyone likes Citroen cars but their fans (and I'm one of them) would say they are value for money and are fairly reliable – though I'd be checking the potential leasing costs for the new C3 before I bought one.