Volvo has officially unveiled its updated '60' range which consists of the new S60 saloon, the V60 wagon and the XC60 crossover and, the firm claims, the vehicles have had more than just a facelift.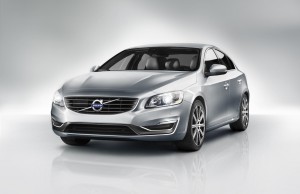 The new Volvo S60
They say this is the most extensive redevelopment of existing models in the company's history.
Volvo says it's been listening to its customers in order to make the improvements and they've helped make the car more attractive.
Volvo fans will notice that the biggest visual changes have taken place at the front end of the models with wider grilles and a bigger Volvo badge.  They've also implemented bigger, single unit headlamps which help give the car a more confident look.
The interior has been updated with a 'Scandinavian luxury' theme which means that the car maker has introduced new upholstery colours, wood inlays and metal frames around the air vents.
As you would expect from Volvo, a firm famed for its commitment towards car safety, there are some interesting innovations including Active High Beam Control which apparently eliminates the need for a driver to switch between high beam and low beam lights as the car will detect an oncoming vehicle and switch automatically.
Essentially, from what I can tell, the new 60 range will have its lights permanently set to high beam – which should annoy those people who don't like the idea of daylight running lights.
However, there are some very impressive fuel economy improvements for their turbocharged petrol and diesel engines.  They say that the new S60 D2 will return a class leading 70.6mpg and have just 106 g/km.
I have said previously on this blog that I am a big fan of Volvos and I ran a V70 quite happily for a couple of years and would have been overjoyed to have had fuel economy of anything like that figure.
There's no indication of prices but you should expect the new cars to land on our shores from November this year.
Leasing is a serious consideration for anyone thinking of buying a Volvo because they are extremely well built and reliable which means the potential leasing costs should be lower.