The all-new Audi S3 Sportback will make its world public debut in Geneva next month and it looks set to impress.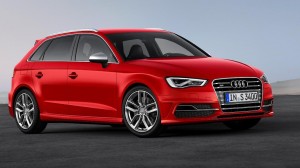 Audi's new S3 Sportback
The S3 Sportback has a new turbocharging and direct injection 2.0-litre TFSI petrol engine which will return around 40mpg – an impressive figure considering what it can do.
In the S tronic twin-clutch transmission version, the car will do 0-62mph in just five seconds and its top speed is limited to 155mph per hour.
You will even find a sound flap on the exhaust to help give the car a more aggressive noise when you are driving at certain speeds.
The S3 Sportback is not only faster than the model it replaces, the kit level is higher too.
This is essentially a high performance hatchback and Audi have added more doors and given it a longer wheelbase to help increase the cabin space.
The S3 Sportback is built to impress and you can order one from April for delivery in September.
Prices are expected to start at around £34,000, which is the same as the out-going model, but see how much a car leasing firm is offering the S3 Sportback for before you actually buy one.