Another day and another pocket rocket is unveiled.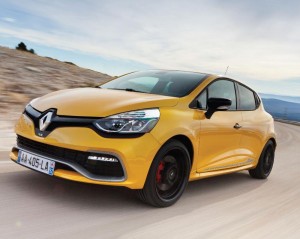 The Clio RenaultSport 200 Turbo
This time it's the turn of the seriously impressive Clio RenaultSport 200 Turbo which comes fast on the heels of Mercedes announcing their incredible A45 AMG, the Alfa Romeo 4C and the Nissan 370Z Nismo.
To stand out from a crowd like that Renault has had to pull out the stops and the army of sporty Clio fans won't be disappointed.
For a start there's a new direct injection 1.6-litre turbo petrol engine which pushes out 200hp @ 6,000rpm; it's got more torque than its predecessor and it's even quicker – it will reach 0-62 mph in 6.7 seconds.
The new Clio RenaultSport 200 Turbo is lighter and has the first Renaultsport Efficient Dual Clutch transmission. There are six gears, with each one selectable via full-sized steering column-mounted paddle shifters.
This set-up also includes the first sub-supercar multi-change down function.
Renault really have gone to town to make this car as impressive as they can in a bid to keep its position as the number one 'hot' supermini.
The list of improvements is a long one and includes new steering calibration, MacPherson front axle set-up, plus rear axle with increased anti-roll bar stiffness plus bigger brakes.
The Clio RenaultSport 200 Turbo is also the first production car with hydraulic compression stops in shock absorbers – usually the preserve of rally cars.
The car also has lower running costs with fuel economy and emissions slashed by almost a quarter. You should be able to get 44 mpg out of this engine – up 10.3 mpg than the predecessor.
There's the high level of spec you'd expect for this model plus some nice touches to the exterior too.
There are five colours to choose from, including exclusive Liquid Yellow, Renault say they will reveal prices at the end of the month. Orders are taken from April for June deliveries.
There will be a decent level of demand since this is a serious car for those who enjoy motorsports (there are functions on board to record lap times and speeds etc) but you might do well to check out the potential leasing package for the Clio RenaultSport 200 Turbo before you open your wallet in a dealership.