Mercedes says its facelifted E63 will set a benchmark for performance, dynamism and efficiency.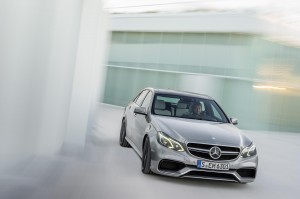 The new Mercedes E63 AMG
And that's not to say that the E63 AMG is short of power – it isn't but Mercedes thinks it could with more.
There's now an S-Model which has a V8 5.5litre engine which will reach 0-62mph in just 3.6 seconds.
The standard E63 AMG saloon also gets a tweak for its twin-turbo V8 5.5litre engine but its 0-62mph is slightly less at 4.2 seconds.
However, the engine's emissions and economy remain the same at 230g/km and 28.8mpg. It's one of the best cars in its class for these figures.
Mercedes says the E63 presents a 'more powerful character' and has a 'dynamic appearance' than those that went before.
Changes include the 'twin blade' grille and a new 'A wing' in the front apron and arafft of other tweaks.
In addition to the facelift, buyers can also customise their car like never before.
One drawback for the size and power of the car is that looks like Mercedes is only going to sell it with rear wheel drive – in left haand drive markets it will have the effective 4MATIC four-wheel drive system to help control it.
The E63 AMG is far ahead of the likes of BMW's M5 and the Jag XFR-S, and the Porsche Panamera Turbo S.
The new models are due here in June and anyone interested should expect a price increase on the current model. Though leasing one is going to make much more sense financially, rather than buying one.