It's the car with the funny name but it's also a British-built car that's a real world-beater in a fast-growing segment defined as a 'crossover' – The Qashqai 360.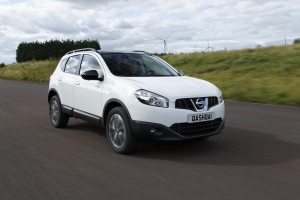 And now Nissan has brought out a new model which has a higher spec and is set to become the bestselling version of the popular range. The Qashqai was the fifth best selling vehicle in the UK last year.
The Qashqai 360 replaces the n-tec+ model and features 360° Around View Monitor which has with four cameras to give a 'helicopter view' when parking (hence the catchy name). It also has an enhanced spec which includes integrated satnav with Bluetooth and smartphone connectivity along 18-inch 'Onyx' alloy wheels, rear privacy glass and a panoramic roof.
It's the same price as the outgoing n-tec+ but has more equipment. It's also available in five seater and seven seater versions (the latter has the tag Qashqai+2).
The 360 sits between the Acenta and Tekna trims and has the same £19,945 starting price.
It's a brave move for Nissan to retire the n-tec+ model which was the best seller of the line-up – accounting for 60 per cent of Qashqai sales in the UK last year.
But hopes are high that this version will reach even higher sales figures.
It's got a lot to live up to considering the n-tec+ model outsold the entire Ford Mondeo range and also outsold the Kia Sportage and Hyundai ix35 ranges combined too.
Pictured here is the new pearlescent paint model – Storm White – which has been added to the range, providing the perfect contrast to the 360's gloss black highlights.
Potential buyers should check out the 1.6 dCi diesel engine version which will deliver 62.8mpg on the combined cycle.
Ayone thinking of buying or leasing a Focus or Astra should give this vehicle serious consideration because the Qashqai is head and shoulders above most other cars out there.
The Qashqai 360 is on sale now and is likely to be very popular – though you should think about leasing one since the depreciation levels should hold up well which makes this option a cheaper way to run one though you should be aware that there's a totally new Qashqai planned for next year.