Santa is on his way… but Land Rover are hoping the launch of their latest Freelander Black and White special editions will see a brief uplift in sales.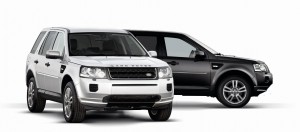 The Freelander Black and White
And, generally, their special editions sell out quickly so the marketing purpose is achieved – and motorists get a decent deal into the bargain.
The limited edition Freelander 2 Black and White is being launched offering more kit at a lower price. At £22,495, the vehicle is £1,200 cheaper than the model it's based on and is limited to just 600 sales.
Based on the S variant, the new special edition comes with LED running lights and a gloss black grille, side vents and door handles. There's also 17 inch alloys, privacy glass, a start button and an eight speaker stero system.
The name derives from the Santorini Black or Fuji White paint colours and the interior has black leather trim as standard and Bluetooth connectivity.
It's being powered by 2.2litre eD4 engine for the two-wheel drive version which, with its six-speed gearbox, should return around 47mpg. There's also a TD4 version for all-wheel drive, which costs £23,495.
And though Land Rover Freelanders tend to keep hold of their values, it would be worth checking out how much they are to lease.