Mazda' s long running MX-5 sportscar has had a facelift – along with a kit revamp.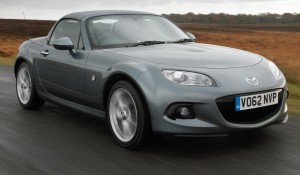 The new Mazda MX-5
The new MX-5 is on sale now and features a new pedestrian friendly bonnet which will 'pop-up' to increase the cushioning for the impact when it detects a pedestrian collision (though most new cars will have the bumpy bonnets to comply with EU law). There are also side air bags and climate control air condition.
Alongside the new grille and bumper is a deeper spoiler, which is supposedly to reduce drag.
There's also a nice new dashboard and steering wheel inserts.
However, there's an even more rewarding driving experience with improved handling on corners.
The engines have been tweaked but essentially remain unchanged with the petrol 1.8litre will have 124bhp while the 2litre will give 158bhp.
Prices for the seven strong MX-5 line-up start at £18,495 though you should really have a look at how much one of these would cost to lease as a comparison.