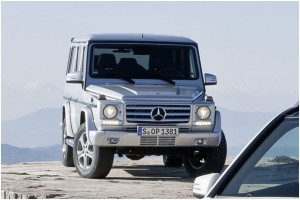 For people with a need for off-road capability and a sadomasochistic inclination, Mercedes-Benz have got good news. If the five hundred and seven trampling horses of the current eight-cylinder, dual-compressor G55 AMG come across as slightly underpowered to you, perhaps the announced six hundred and thirty (630!)  ponies of the coming-soon G65 AMG will put your restless mind at ease. Responsible for this performance will be a six litre V12 with two turbo chargers bolted on.
This announcement came at about the same time as Mercedes-Benz stating the coming of a facelifted G-class, already shown casually in the background of promo pictures for the new GLK model. The official revelation of the facelift will occur during Beijing's Car Show in late April.
Why the sadomasochistic requirement for any future buyer of this top model? Because driving the Geländewagen – the slick German term for 'terrain vehicle' – through terrain with all 630 horses fully put to work, and so maxing out at the will-be-limited top speed of 155 mph, would much resemble being inside a jackhammer, I imagine. Even if it's only across a mildly bumpy field.
The absolutely hilarious thing about this is that if for some reason you think this is too much of the good stuff, there will be a watered-down version too. This GL63 AMG will have 'only' 537 horses, produced by a 5.5 litre bi-turbo V8. Must be a real snail that one!
Oil Sheiks across the Middle East will clap their hands for Mercedes' new treats and certain 'professionals' in Columbia will welcome the new jungle-cruiser as well. The price of these puppies will of course be excessive, which I suspect to be the main reason for the car being sold at all. Farmers and country people needn't worry though. The fresh-faced G-class will remain available with a range of 'normal' petrol and diesel engines as well.
I doubt those will ever be as much fun as bumping through a muddy field on account of 630 feisty broncos in a mostly (totally?) uncontrolled fashion. In reality, unfortunately, these cars probably won't see much else than smooth asphalt.