The all-new Mazda CX-60 car lease model will be joining the firm's line-up this autumn and it's an impressive creation.
It's also the first model featuring the Mazda's plug-in hybrid powertrain that combines a 17.8kWh battery, a 100kW electric motor and a four-cylinder 2.5-litre petrol engine.
Mazda says that this car represents everything they've learnt over the past 100 years and it's available in three trims.
There are also two option packs, the driver assistance pack and convenience pack, while the Exclusive-Line trim gets a comfort pack option.
Technologies for the contract hire Mazda CX-60
The new technologies for the contract hire Mazda CX-60 includes a driver personalisation system that is fitted on most models and is an option on the Exclusive-Line model.
There's an automatic driving position system that uses a camera so drivers can set the seat to match their physique.
The system will estimate their height and detect the position of the driver's eyes to adjust the steering wheel, door mirrors, seat and head-up display to offer the optimal driving position to enjoy the CX-60.
The camera used to set the driver's position can also be used for 250 other personal adjustments and settings including the air-conditioning and the sound system – with another driver's facial recognition setting the system to their needs.
Adding a 360° camera to the new model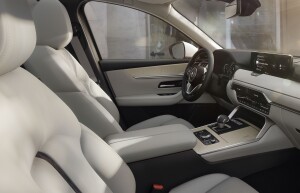 Mazda is also adding a 360° camera to the new model to help boost monitoring with the system working with onboard safety systems to keep the occupants safe.
A new reversing camera is also being fitted as standard.
There's also a new eight-speed automatic gearbox to deliver the power and Mazda says there's a responsive gear shifting system to offer dynamic performance and better driver engagement.
Lease the Mazda CX-60
However, it's for the impressive hybrid powertrain that will attract potential drivers to lease the Mazda CX-60 with various intelligent driving modes, including electric-only power and towing, and an intelligent all-wheel driving system.
In future, the firm says drivers will get the choice of a new 3.0-litre petrol engine for the range, plus there's a 3.3-litre diesel unit planned too.
Drivers should expect the hybrid to return around 188 mpg, with emissions of 33g/km – which makes this a sound car to lease for business drivers.
The all-new contract hire Mazda CX-30 is entering a competitive sector but the firm's other SUV offerings are impressive well-designed and well-made creations.