This is the latest Honda Civic e:HEV car lease which is available as a hybrid only and is the 11th generation of what has become an iconic compact car.
The all-new hybrid delivers efficiency and performance with improved levels of comfort in the cabin.
The new model underlines the carmaker's efforts to complete the electrification of all its models being leased and sold in Europe by the end of this year.
Contract hire Honda Civic e:HEV
The contract hire Honda Civic e:HEV – which stands for hybrid electric vehicle – utilises two powerful electric motors and a new 2.0-litre petrol engine.
Drivers get 135kW of power, torque of 315Nm, and emissions of 110g/km.
However, it's the electric motors that will deliver most of the power needed and the powertrain will shift seamlessly between engine, hybrid and EV drive without any input from the driver.
The new model also features four driving modes, they are Sport, Normal and Eco – plus a new Individual mode that allows the driver control of the transmission and engine to tailor the vehicle's response whenever they need it.
There's also a fixed gear transmission to minimise mechanical friction and there's an intelligent power control unit to optimise its effectiveness.
Longer wheelbase of the new Civic delivers better grip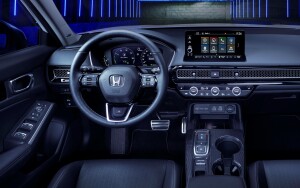 The longer wheelbase of the new Civic delivers better grip and cornering performance and drivers will enjoy a dynamic feel to the car's drivability.
There are also a lot of advanced safety features onboard, as well as driver aids, being added to the new vehicle.
These include a front wide-view camera and there's enhanced recognition technology to identify other vehicles, cyclists, road lines and pedestrians.
There's also, in a first for the Civic, sonar sensors at the rear and front.
Honda says that its collision mitigation braking system has also been improved along with blind spot information, lane keeping assist and cross traffic monitoring.
Honda Civic e:HEV car lease
The new Honda Civic e:HEV car lease will undoubtedly build on the success of its previous generations and Honda says that it will set new class benchmarks for the segment when it arrives in the UK later this year.
The design of the new car is also sleek with a sporty silhouette and the interior is light and airy thanks to the increased glass area.
Grip is boosted with larger, wider tyres but this still remains a practical family car choice with more space than previous versions.
The interior has also been redesigned with premium materials and there's a new 9.0-inch central touchscreen with an intuitive infotainment package.
Some models also add premium speakers for the sound system and a large LCD panel for the instrument display.