The ever-popular Nissan Leaf car lease range has been given a refresh with more innovative technology and an eye-catching fresh style.
The Leaf is one of the world's most popular electric vehicles and drivers will now get new assistance features, including the semi-autonomous driving offering, ProPilot, and the NissanConnect system.
The new model arrives in April and is aimed at meeting the needs of families wanting an efficient powertrain and seamless connectivity from their vehicle.
Drivers will also get new alloy wheel designs and new colour choices.
Contract hire Nissan Leaf
There are two battery choices for the contract hire Nissan Leaf and they deliver 239 miles of battery-powered range.
The firm has built up 10 years of electric vehicle knowledge with the Leaf to deliver an efficient driving experience – and that is seen in the new car.
The ProPilot technology offers automatic start and stop and will maintain a safe distance between it and the vehicle in front.
The EV also features Nissan's e-Pedal that will accelerate, as well as decelerate and bring the car to a stop.
The Leaf for 2022 offers improved infotainment features as well as smartphone integration.
The NissanConnect Services app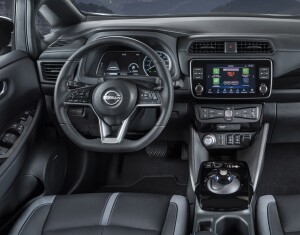 Drivers also get to enjoy the NissanConnect Services app on most models which enables the linking of the vehicle with the driver's Amazon Alexa home devices for improved convenience.
Prices for the new vehicle start at £26,995 and it's available to order now.
The exterior refinements make the car appear more dynamic and there are new brand logos on the front grille, the rear of the car and on the wheels.
Nissan is also offering the option of 16-and 17-inch alloys to deliver a sporty look and there are new colours added to the five choices of monotone paint and there are five two-tone options as well.
Nissan Leaf car lease
There's no doubt that the Nissan Leaf car lease offering has been popular, the firm has sold more than 577,000 of the vehicles around the world.
It is now a well-established and popular EV, and the latest enhancements will undoubtedly keep the Leaf as a popular choice in an increasingly competitive EV environment.
The improvement of the remote operation of the car, such as the climate control operation, so drivers can warm or cool the car before they get in it will also be welcomed.
The improvements to the contract hire Nissan Leaf underline the carmaker's aims and will ensure that this popular EV remains a staple on the UK's roads in the years to come.