It has become something of an iconic compact crossover, and now the Nissan Juke car leasing range has a new hybrid powertrain choice.
The new offering offers better fuel consumption and enables drivers to start-up in 100% electric power every time, the firm says.
The hybrid utilises a 1.6-litre petrol engine that has been specially designed for the purpose of working in a hybrid application and it produces 94 hp, with torque of 148Nm.
There's also an electric motor producing 49 hp, and torque of 205Nm.
Contract hire Nissan Juke
The result sees the contract hire Nissan Juke enjoying 25% more power as a hybrid than its petrol sibling with fuel consumption reducing by 40% in urban areas, and by 20% on the combined cycle.
Drivers will now have a car returning 54 mpg, with emissions of 118g/km.
The hybrid also uses regenerative braking when the vehicle slows down to top up the battery and there are driving modes that also boost fuel consumption.
The power is delivered using a smart automatic gearbox that will deliver optimal power whether that's from the petrol engine or electric motor, or both sources.
e-Pedal step system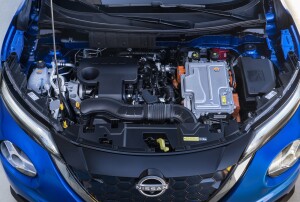 Nissan is also fitting its e-Pedal step system so the car can be controlled using the accelerator pedal so when the driver lifts their foot from the pedal, moderate braking pressure is applied to help slow the car down.
There are also some external modifications for the hybrid Juke, and these are mainly to boost aerodynamic efficiencies.
The firm is also adding blue hybrid badges to the vehicle to help highlight that this is an electrified offering.
The cabin has also been improved with dials highlighting when energy regeneration is taking place, and how much power is left in a battery.
There's also a button for drivers to activate the pure electric driving mode and the system displays on the instrument panel when EV mode and e-Pedal have been activated.
Nissan Juke hybrid car lease model
Other changes for the Nissan Juke hybrid car lease model are a smaller boot space of 354 litres to help accommodate the 1.2kWh battery pack, though with the rear seats folded flat, the boot is 1,237 litres.
The new model is available this summer and Nissan says that the Juke offers 'enjoyable drivability' whatever the circumstances.
Not only is the powertrain efficient and responsive, and that is particularly the case when the vehicle works in EV mode – a system that drivers can switch on when in residential areas, for example, and in traffic jams.
The contract hire Nissan Juke hybrid is available to order now.