This is the impressive, all-new contract hire Jeep Grand Cherokee 4xe that's now available to preorder.
The new model features plug-in hybrid technology which will make it the most efficient Grand Cherokee for fuel consumption.
It still retains the legendary 4×4 capability of the famous Jeep brand and it's also packed with technology.
And since this is the fifth generation of the popular SUV, it comes with a fresh exterior and interior design.
Jeep Grand Cherokee 4xe car lease range
There's only hybrid power available for the new Jeep Grand Cherokee 4xe car lease range with a four-cylinder turbocharged petrol engine and a 17.3 kW battery delivering the power.
That power is delivered using an eight-speed automatic transmission with the on-road capabilities underpinned by two electric motors, one on each axle.
Drivers get to enjoy a combined power output of 375 bhp and torque of 637Nm for the Grand Cherokee 4xe.
Driving modes for the all-new SUV
There are also three driving modes for the all-new SUV including eSave, electric and hybrid with the electric mode offering battery power only with the petrol engine being used only when the battery doesn't have enough power.
There are also selectable driving modes dependent on the terrains the vehicle is on including mud, snow and rock.
The off-roading abilities of the Grand Cherokee 4xe are down to the air suspension, the traction management system and the all-wheel drive offering.
The equipment list includes lots of safety equipment and smartphone connectivity.
New night vision camera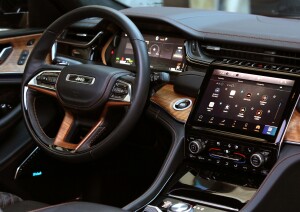 Drivers get a new night vision camera, a 10-inch colour display, a new digital rear mirror and a front passenger screen for the satnav and entertainment.
There's also a perpendicular and parallel parking assist system, LED headlamps and forward collision warning.
The Jeep also features Uconnect Services to help with the advanced connectivity and electrified driving abilities, including My Remote, My Car, My Navigation and my eCharge.
There are also some new services available on the mobile app including an 'Eco Score' offering so drivers can monitor their driving style and other advanced remote controls.
Finding charging stations is made easy
The app also gives information about vehicle maintenance every month and finding charging stations is made easy.
The system will also alert the driver should someone attempt to steal their Grand Cherokee 4xe, plus there's the ability to contact the emergency services in an accident.
The interior also impresses with leather upholstery and walnut accents, ventilated and heated rear seats and four zone air-conditioning.
The contract hire Jeep Grand Cherokee 4xe offers an impressive SUV for those who want to go off-road in an excellent and well-made vehicle.