There's a stylish new electric performance saloon heading to our showrooms in the shape of the contract hire Mercedes-AMG EQE 53 4MATIC+.
The firm is actually producing two new models, but the EQE 43 4MATIC won't be available for anyone wanting to lease it in the UK.
Instead, drivers get to enjoy a stylish and well-designed car offering zero emissions and an all-electric range of up to 321 miles.
The new model is based on the premium, luxury class EVA2 architecture with AMG specific additions.
EQE 53 4MATIC+ car lease range
The EQE 53 4MATIC+ car lease range offers improved suspension, drive, sound and braking abilities.
AMG has also refreshed the interior and exterior design and added more equipment.
Mercedes says that the EQE 53 4MATIC+ is aimed at those drivers wanting to enjoy better driving dynamics and sportiness.
And this is an agile car that is powered by two electric motors, one on each axle.
Mercedes-AMG EQE 53 4MATIC+ lease model
There's also all-wheel drive for the Mercedes-AMG EQE 53 4MATIC+ lease model with drivers having power of 687 hp being deployed almost immediately, though you'll need the AMG Dynamic Plus package, otherwise, the car's power is 626 hp.
The torque for the new electric saloon is 1,000Nm and the 0 to 62 mph sprint time is 3.3 seconds. The saloon will go onto a top speed of 150 mph.
The power is deployed effectively by the 4Matic system so drivers will be reassured with plenty of grip.
AMG-specific electric motors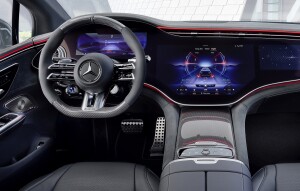 The AMG-specific electric motors deliver higher motor speeds and power due to a specific inverter, higher currents, laminations and windings.
The battery capacity is 90.6 kWh and is capable of rapid recharging.
Mercedes says it will take just 15 minutes with a quick charger to deliver enough power to cover 180 miles.
The model for UK drivers also features a wiring harness that is AMG-specific to help deliver the higher levels of performance.
Thrilling experience behind the wheel
Drivers also get to enjoy a thrilling experience behind the wheel with improved driving dynamics thanks to the AMG Dynamic Plus package.
This includes the race start function to deliver a powerful boost from a standing start and will increase the maximum speed to 150 mph.
The car's sound system has also been tweaked to deliver an emotional backdrop when the EQE 53 4MATIC+ is put under hard acceleration – it will match the engine's performance to deliver the sound.
For anybody wanting to lease an impressive electric performance saloon, there's a lot to like about the new contract hire Mercedes-AMG EQE 53 4MATIC+.