This is the new contract hire Mazda2 Hybrid that arrives in UK showrooms in May.
It's available to order now with prices starting at £20,300 and there are three trim grades to choose from.
This is the first Mazda to have a self-charging hybrid powertrain that utilises a 59kW electric motor and a 1.5-litre petrol engine to deliver a combined power output of 116 PS.
The Mazda2 is a collaboration between Mazda and Toyota with the Hybrid model being sold alongside the latest Mazda2 for 2022 to give customers two distinct models.
Mazda2 Hybrid car lease range
The entry level model for the Mazda2 Hybrid car lease range offers lots of equipment for the money, with the Agile model adding alloy wheels, smart keyless entry, a reversing camera and an eight-inch colour display.
Mazda is also offering a comfort pack that adds black bumper mouldings and front grille and a lower chrome surround.
The pack also adds front fog lights, LED headlights, dual-zone climate control and sports-style front seats.
The range-topper is the Select trim that adds larger alloys, privacy glass, wireless smartphone charging and power-fold mirrors.
Drivers also get parking support and blind spot monitoring.
Will automatically drive in electric mode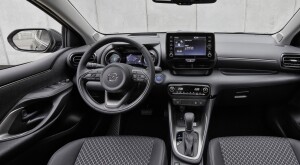 When drivers start-up their Mazda2 Hybrid, it will automatically drive in electric mode delivering a quiet and seamless driving experience with zero emissions.
During normal driving, the system will switch between electric and petrol power to deliver the best performance and fuel consumption figures.
Also, Mazda has added a braking system that recovers kinetic energy for topping up the battery.
This means there's no need to recharge the system since the engine-driven generator will constantly maintain the battery's power level.
Petrol-powered contract hire Mazda2
For those interested in the petrol-powered contract hire Mazda2, they also get new trim levels to choose from and a 1.5-litre Skyactiv-G engine producing 115 PS – there are also engines delivering 90 PS and 75 PS.
It's also a cheaper model with prices starting at £16,575 and there are seven models in the range offering either automatic or manual transmission.
The flagship Mazda2 GT Sport Tech is certainly worth considering for the level of equipment and responsive handling that the car delivers.
Otherwise, the Mazda2 Hybrid car lease range is an ideal choice for those who would like to enjoy fuel economy of 74 mpg and emissions of 87g/km.