The luxuriously appointed Volkswagen ID.5 and ID.4 car lease ranges now have new models to order.
The ID.5 and the ID.5 GTX are both all-electric vehicles and the new ID.4 member of their line-up, the ID.4 Pro, are now available.
Volkswagen says these are two distinct newcomers and help diversify the ID. model family.
And, they add, the SUV-coupe ID.5 features a range of qualities that haven't been seen on electric Volkswagen yet.
Volkswagen ID.5 car lease range
The Volkswagen ID.5 car lease range is the new flagship for the firm with an elegant SUV creation, a long equipment list and a well-appointed interior.
It's available with the largest battery pack offered by VW, a 77kWh battery with a range of 313 miles.
It has a rapid charging time of just 29 minutes to recharge the battery to 80% of capacity.
And, VW says, this battery will take six minutes to recharge to deliver 62 miles of range.
The model is available with three power options and three trim levels with lots of equipment in each.
The contract hire ID.5 range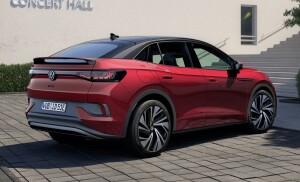 Equipment for the contract hire ID.5 range includes LED matrix headlights, a panoramic sunroof, and the firm's semi-autonomous assistance system, Travel Assist.
There's also three-zone climate control, an electric tailgate and the firm's augmented reality head-up display.
The front seats have 12-way electrical adjustments and a massage function.
The ID.5 Max adds larger alloy wheels, sports seats, dynamic chassis control and for better driver engagement, there's progressive steering.
The ID.5 GTX Max offers 299 PS for electric performance with swift acceleration from a standing start thanks to its all-wheel drive system and dual electric motors.
VW ID.5 GTX
The VW ID.5 GTX offers a 0 to 62 mph sprint time of just over six seconds and a top speed of 112 mph.
It stands out from the crowd with specific bumpers and integrated lights and sports wheels.
VW says there is a new entry point for the ID.4 range with the Pro model now offering a 77kWh battery and 318 miles of range.
The price for the model has been lowered and drivers should expect excellent levels of performance and low running costs.
The Volkswagen ID.5 car lease range, as well as the ID.4, offer excellent, well-designed and well-equipped EVs that will be ideal for company car drivers wanting a stylish electric vehicle.