It's a new flagship that features a bold crossover design, and the order books have now opened for the Citroen C5 X car lease range.
Citroen says their offering combines the appeal of an SUV, the status and elegance of a saloon, while having the practicality and versatility of an estate.
It's available with plug-in hybrid petrol powertrains and prices start at £26,490.
The firm says that the new C5 X offering is a celebration not only of its past, but of its future too since it incorporates various design features from some of its iconic models, including the DS.
Contract hire Citroen C5 X
The contract hire Citroen C5 X has a choice of powertrains, including an ultra-efficient hybrid and a PureTech petrol engine.
The petrol versions include a 1.2-litre PureTech 130, or the 1.6-litre PureTech 180.
The hybrid features the PureTech 180 petrol unit with a 12.4kWh battery, and an 81.2kW electric motor.
The result is a combined power output of 225 hp with torque of 360Nm.
In full-electric mode, the Citroen C5 X is capable of 34 miles on battery power with emissions of just 30g/km.
This makes the vehicle an interesting choice for company car drivers with a benefit-in-kind (BiK) tax rate of 11%.
Three driving modes to choose from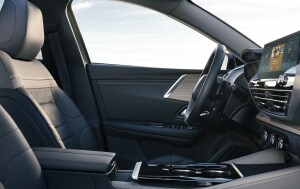 There are three driving modes to choose from: electric, hybrid and sport.
The electric mode offers 34 miles of range, while hybrid delivers what Citroen says is the best of both worlds.
The sport mode will maximise performance from the petrol engine and the electric motor.
There's also regenerative braking to help top-up the battery and an e-Save function to preserve electric range for when driving in urban areas or city centres.
Stylish new C5 X car lease range
Equipment for the stylish new C5 X car lease range includes alloy wheels, LED headlights, a 10.0-inch central display with satnav and smartphone compatibility.
The standard equipment also features rear and front parking sensors, plus a reversing camera.
The hybrid versions add a 7.4kW onboard charger, and there's a customisable user interface to help the driver get the most from their hybrid.
Other models feature black leather upholstery, advanced comfort seats and a multi-function steering wheel.
There's also a larger screen at 12.0-inches, plus a head-up display and wireless smartphone charging.
The range-topper adds tinted rear windows, stylish leather seats and acoustic windows to help maintain a quiet cabin.
The Citroen C5 X car lease range is a stylish and well-equipped offering with the hybrid delivering low running costs and this will be very attractive to company car drivers.