New prices and trims mark the introduction of the new Citroen e-C4 Electric car leasing range that has been revised for 2022.
Citroen says it is responding to customer demand for accessible trim levels and vehicle specifications.
They have now unveiled the new 'Sense' trim as the entry level offering, with the 'Sense Plus' trim being dropped from the range.
There are still three variants, including the Shine Edition and the Shine Plus.
Contract hire Citroen e-C4 Electric Sense
The contract hire Citroen e-C4 Electric Sense model offers a stylish and well-equipped way to access all-electric vehicles.
There's a lot of equipment including 18inch alloy wheels, LED headlights, power folding mirrors, keyless entry and start and rear parking sensors.
And Citroen has also added lots of safety equipment including speed limit information, active safety brake, forward collision warning and lane keeping assist.
The infotainment is utilised using a 10.0-inch display with DAB radio, smartphone compatibility and audio streaming.
The firm's 'Smart Pad' support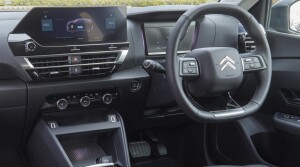 The models also with the firm's 'Smart Pad' support which is an integrated mount for holding tablet devices that will not distract the driver.
The ride is still supple and comfortable with advanced comfort suspension and the firm's advanced comfort seats that work a treat on long journeys.
The Shine Edition adds active cruise control, a head-up display and active blind spot detection.
There's also the Citroen 'safety plus pack' that includes an extended traffic sign recognition system – and there's a radar system for detecting cyclists and other obstructions at night.
e-C4 Electric Shine Edition adds satnav
The e-C4 Electric Shine Edition also adds satnav with a three-year subscription to real-time traffic updates, rear and front parking sensors, a heated steering wheel and a colour reversing camera.
The most popular model is the Shine Plus which is the range-topper, and it adds a hi-fi speaker system, wireless smartphone charging, and black leather seats.
The updates have already been implemented and Citroen says it has also made changes to the EV's transmission and heat pump systems.
This sees the battery-powered range of the e-C4 Electric being extended by 18 miles to 217 miles.
The new Citroen e-C4 electric car leasing range is an impressive offering with lots of equipment and is worth considering for those looking at an EV for the first time.