This is the excellent BMW M8 Competition Coupe car lease model that has been unveiled by the carmaker, along with the Convertible and Gran Coupe.
The carmaker says that the vehicles represent the pinnacle of the M line-up and underlines their luxury offering with a blend of prestige, performance and presence.
These are high-performance sports cars to deliver a great driving experience when compared with the previous M8 models.
There has also been a raft of design improvements and upgrades to operational and control technology.
Contract hire BMW M8 Coupe
There are three body styles available for the contract hire BMW M8 Coupe, along with light alloy wheels and new exterior colours.
BMW is also offering its 'Visibility Pack' for the cars for the first time to help boost individualisation.
The interiors feature full Merino leather and Alcantara upholstery in a contemporary style.
Drivers also get a larger 12.3-inch infotainment display that is easier to use.
Flagship M model offers a comprehensive specification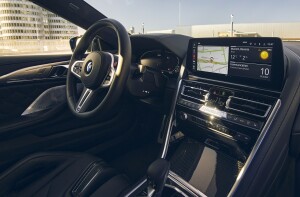 The flagship M model offers a comprehensive specification that has been fuelled by the firm's motorsport-bred performance.
This is underpinned by the V8 4.4-litre engine that produces 625 hp.
That power is delivered using a smooth-changing, eight-speed M Steptronic gearbox.
The new models also feature M xDrive to deliver an all-wheel drive system to keep the car on the road.
Indeed, BMW says that its chassis technology for the cars has been developed using motorsport experience and then each specific model has been tuned to deliver agility as well as precision.
New M8 Competition lease range
The performance figures for the new M8 Competition lease range are impressive with a 0 to 62 mph time of 3.2 seconds for the Coupe, Convertible and Gran Coupe.
They all have a top speed of 155 mph, with fuel economy of around 26 mpg.
The CO2 emissions for the range are 251g/km, and prices start at £123,300 for the M8 Competition Gran Coupe.
M-specific design features
The new line-up also offers eight exterior colours as well as M-specific design features electronically controlled dampers to help deliver a smooth ride.
There's also an option to switch the Red M compound breaks to M Carbon ceramic alternatives to deliver better braking performance.
Undoubtedly, most drivers will get to enjoy the dynamic stability control system for thrills behind the wheel.
There's no doubt that the BMW M8 Competition Coupe car lease, plus the Convertible and Gran Coupe, offer an impressive and stylish sports car experience with excellent refinement.