This is the stylish Cupra Born car lease model that is the first all-electric performance hatchback from the brand.
Deliveries will start in the spring, with drivers enjoying a car lease offering lots of equipment as standard and an advanced powertrain.
This is the firm's first all-electric offering and it's also the second model that is exclusively available as a Cupra.
This follows the launch of the Cupra Formentor last year.
New contract hire Cupra Born
The new contract hire Cupra Born is available with a choice of three trims and four battery outputs.
The first version to be available in the UK is the Born with the 58kWh motor producing 204 PS.
Cupra says that other batteries will follow later this year and prices for the first model start at £33,735.
Drivers can expect the Born's 58kWh motor to deliver a WLTP range of 263 miles, while offering a 0 to 62 mph sprint time of 7.3 seconds.
Most of that performance is down to the instantaneous torque of 310Nm.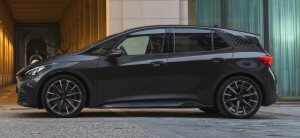 Born with a 45kWh battery
It will be followed by a Born with a 45kWh battery delivering 150 PS. This will be a cheaper offering.
There's also a Cupra Born with a 58kWh battery and a power output of 231 PS on the cards.
However, later this year there will be an impressive Born e-Boost model offering 77kWh producing 231 PS. Its price will also be unveiled later.
Until then, the Benefit-in-Kind (BiK) rating for 2021/22 is 1% for each of the models.
This is Cupra's first all-electric offering, and the carmaker says that they will launch an electric SUV in 2024, the Tavascan.
Recharging time for the Cupra Born
The recharging time for the Cupra Born model with the 58kWh battery is just over six hours using an 11kW wall charger.
The battery will take just 35 minutes, however, to recharge to 80% of capacity when using a 120kW rapid charger.
The new car is also packed with equipment, including a 12-inch infotainment display that dominates the dashboard and a fully customisable 5.3-inch digital cockpit.
Both screens deliver high-resolution, and some trims also offer an augmented reality head-up display.
There's a lot to like about the Cupra Born car lease range with a long list of equipment and great handling for this contract hire vehicle to impress.