The impressive Peugeot e-2008 car lease range has had its battery range improved as part of a 2022 refresh.
The WLTP range is now 214 miles from a single charge.
Some of the improvements that led to the increase include adding A+ 17-inch tyres to deliver lower rolling resistance and greater efficiency.
There's also a new gearbox ratio to optimise motorway and road journeys.
Peugeot says it has also optimised the car's air-conditioning and heating facility to boost energy efficiency.
Contract hire Peugeot e-2008
The trim levels for the contract hire Peugeot e-2008 have also been streamlined following customer feedback.
The firm says that the model is now available in GT Premium, GT, Allure Premium and Active Premium.
Peugeot has dropped the Allure trim because drivers prefer the higher specification levels that are available on the other trims.
There are also subtle styling changes to the exterior and interior including new door mirror covers, new seats and the new A+ rated tyres that are fitted as standard on most models.
Battery for the e-2008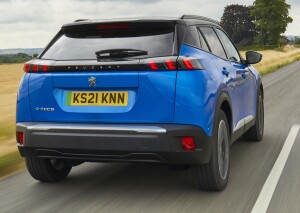 The battery for the e-2008 remains the firm's 50kW offering with a 100kWh electric motor.
With zero tailpipe emissions, drivers get to enjoy a 0% Benefit-in-Kind (BiK) rate which makes it a sound car leasing choice for business users and fleets.
The battery can be recharged to 80% of capacity using a 100kW rapid charger in 30 minutes.
For those who want the petrol or diesel engines, Peugeot is offering 1.2-litre petrol units or a 1.5-litre diesel engine.
All of them are fitted with a six-speed manual gearbox, with the more powerful units being fitted with the firm's automatic transmission.
Equipment for the e-2008
Standard equipment for the e-2008 includes 16-inch alloy wheels, LED daytime running lights and automatic windscreen wipers.
There's also the firm's latest i-Cockpit, a compact steering wheel, a 7.0-inch display and a 3.5-inch instrument display.
The infotainment system is smartphone compatible and safety features include rear parking sensors and an active safety brake that comes with pedestrian detection.
Other models feature larger alloy wheels, a 3D i-Cockpit, a configurable head-up display, a colour reversing camera and the active safety brake system comes with pedestrian and cyclist detection plus night vision function.
The stylish Peugeot e-2008 car lease range will benefit from an improved battery range but this well-equipped contract hire offering is certainly worth considering, particularly with its zero BiK rating.