It's an impressive car, and the refreshed Mazda MX-5 car lease for 2022 will help boost its popularity.
There are 10 models in the range, including six RF Retractable Fastbacks, and four convertibles.
The refreshed line-up includes a new metallic platinum quartz paint, and all models now come with the firm's Kinematic Posture Control (KPC) system.
The KPC offering will boost stability when cornering at speed and help with the driver's handling and engagement.
The system works by adding some braking force to the inner rear wheel that needs it when cornering.
This leads to the car's body being pulled down and then suppressed to deliver the reassuring cornering ability – Mazda says that the system operates so subtly that the car's handling is unaffected.
Contract hire Mazda MX-5
The engines for the contract hire Mazda MX-5 include a 1.5-litre engine producing 132 PS, and a 2.0-litre alternative delivering 184 PS.
Opt for the RF with a 2.0-litre engine, and there's the option of automatic transmission.
This engine is an updated offering with better performance – the previous model's engine delivered 160 PS.
There's also increased torque across the revs.
Performance enhancement for the MX-5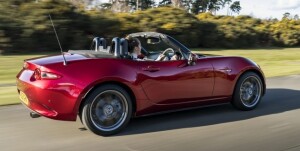 The performance enhancement for the MX-5 sees the convertible 0 to 62 sprint time improving by nearly one second to 6.5 seconds.
There's also a more powerful engine note thanks to the retuned main silencer.
The MX-5 with the 2.0-litre engine and the manual box now feature Bilstein dampers, a limited slip differential and a front strut brace.
Fuel consumption is boosted with the firm's energy recovery system, as well as stop-start technology for both engines.
Exterior styling of the MX-5 for 2022
The exterior styling of the MX-5 for 2022 remains untouched, a sound move since the previous model unveiled in 2015 won the World Car Design of the Year award.
Mazda says it will continue refining the MX-5 which has now been in production for 30 years to make it a satisfying and thrilling car to drive.
And as sports cars go, the 2022 offering delivers an impressive car for the money and a fun to drive character.
Indeed, the MX-5 still retains its famous dynamic abilities and the award-winning mechanical set up from the previous model.
For many fans, the Mazda MX-5 car lease range offers a thrilling and engaging contract hire car to enjoy and the latest model will deliver those thrills.