The Skoda Karoq car lease model has been updated four years after being launched and the refresh will boost its popularity.
Skoda is adding more efficient engines, along with new technology and sustainable materials.
There are also some exterior styling tweaks, including a wider grille and slimmer headlights.
The wheels are also new, and the aerodynamics have been improved to lower the car's emissions.
Contract hire Skoda Karoq
The contract hire Skoda Karoq is offered with a choice of five engines with a range of outputs.
There are three petrol choices, either 1.0-, 1.5 or 2.0-litre petrol engines with either three- or four-cylinders producing between 110 PS and 190 PS.
The power is delivered using either a manual six-speed box, or a seven-speed DSG automatic transmission.
Both diesel choices are a 2.0-litre engine delivering 116 PS or 150 PS with a choice of either manual or automatic transmission.
Karoq also gets improved connectivity features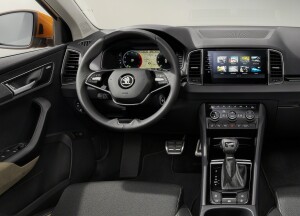 The revamped Karoq also gets improved connectivity features, including a built-in eSIM so the driver can access various apps including the latest news and weather forecast.
There is a wide range of mobile online services to access, and drivers can also unlock and lock their car using their smartphone.
There's also the latest infotainment system from VW which uses an 8.0-inch display.
Other models feature a 9.2-inch screen that has satnav as standard.
The Karoq also features a digital instrument cluster using either an 8.0-inch or a 10.25-inch display.
Safety is a key feature for the Karoq
Safety is also a key feature for the popular Karoq with predictive pedestrian protection, traffic sign recognition, traffic jam assist and adaptive lane assist.
There's also a system that monitors how long the driver leaves their hands off the steering wheel, and if it's longer than 15 seconds the system will initiate the hazard lights and bring the car to a stop.
The sustainability comes with the material used for the seat covers and there's enhanced LED ambient lighting to create an impressive environment at night.
The range-topper is the stylish Karoq SportLine which is available with a 2.0-litre petrol unit producing 190 PS and all-wheel drive and the firm's automatic transmission.
There are various styling tweaks to make this an attractive standout car, including gloss black roof rails and window frames.
The Skoda Karoq car lease range offers a stylish and well-equipped SUV that is comfortable to drive, and the latest enhancements deliver a refined contract hire opportunity.