It has been designed to meet the needs of European urban drivers and the all-new Toyota Aygo X car lease delivers.
Toyota says its new Aygo X is a unique crossover for the A-segment.
It has been produced and designed in Europe after consulting with customers who wanted a confident and compact car.
The new model has been built on the firm's global architecture which made its debut with the award-winning Yaris.
Contract hire Toyota Aygo X
The contract hire Toyota Aygo X utilises a three-cylinder, 1.0-litre engine to deliver sparkling performance and economy of around 60 mpg, with emissions of 109g/km.
It is available with either a manual gearbox or an automatic CVT transmission for decent performance around town.
Toyota has also boosted the aerodynamics with improved wheel arch mouldings and front bumper design to reduce turbulence.
This is also a safe car that is packed with various safety kit including the firm's 'Safety Sense' offering which uses radar and a camera sensor to offer all-round protection.
Aygo X lease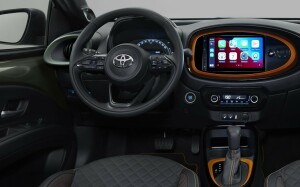 The Aygo X lease also comes with emergency steering assist, adaptive cruise control and collision mitigation.
There's also daytime cyclist detection and night-time pedestrian detection to protect other road users.
Standard equipment includes a high definition 9.0-inch display, wireless smartphone charging, ambient lighting and cloud-based navigation offering live route information.
There's also a smartphone app so drivers can keep track of warning alerts, driving analytics, their vehicle tracker and fuel levels.
Sound-insulating materials create a peaceful cabin
The new model is also a quiet car for the occupants with sound-insulating materials to create a peaceful cabin.
There's also a premium sound system onboard to meet the car's characteristics with Toyota collaborating with JBL to deliver a system to impress.
Drivers also have the option of a retractable canvas top – a first for a crossover in the segment – which will boost the driving experience.
This canvas top uses quality materials to offer improved dust and water protection and there's also a wind deflector to improve robustness and durability.
The all-new Toyota Aygo X car lease is a stylish and well-made creation to impress and in a competitive segment, it is certainly worth looking at.