The 2022 model year for the Toyota Corolla and C-HR car lease ranges have been updated with lots of new equipment, trims and colours.
The order books have now opened, with deliveries starting early next year.
Both ranges will adopt the firm's latest multimedia system, SmartConnect+, which will take functionality and connectivity to a higher level.
This will be offered as a standard feature on all versions of the cars, except for the Icon trim.
Contract hire Toyota Corolla
There will also be a new offering for the contract hire Toyota Corolla with their 'Trek Special Edition'.
This is a tie-up with the sport's firm to deliver a car to meet the needs of elite athletes looking to compete on challenging roads.
The special edition will have a self-charging hybrid powertrain and a 2.0-litre engine.
The ride height has also been raised slightly with extra wheel arch mouldings and rear and front under-runs.
This model also features 18-inch alloy wheels and chrome door window frames, while the interior has black leather upholstery and satin chrome across the front doors and instrument panel.
Toyota C-HR has been given a revamp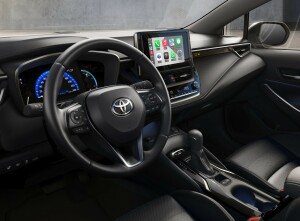 The Toyota C-HR has been given a revamp with new 18-inch alloys and seat upholstery that combines supple synthetic leather with fabric.
There's also a new paint option for all versions, plus for the C-HR GR Sport there's a bi-tone finish available.
Both the C-HR and the Corolla will have the infotainment system updated with over-the-air updates and there's easy smartphone integration.
The new model also sees a four-year subscription to deliver local roads and parking information.
One of the world's most popular cars
The Toyota Corolla is one of the world's most popular cars, it has sold more than 50 million versions around the world.
It too has new colours being introduced and the hatchback also gets a bi-tone combination choice.
The Corolla saloon gets new 17-inch alloy wheels, and the overall additions should help boost the car's popularity.
For anybody wanting reliable and well-designed cars, there's a lot to recommend the Toyota Corolla and C-HR car lease ranges and the 2022 refresh will help underpin their enduring popularity.