This is the stylish and impressive Volkswagen ID.5 car lease model that is the latest vehicle as part of the carmaker's electric offensive strategy.
Not only is this a new EV, but it's also entering a new market segment.
This is an elegant SUV coupe that offers a sporty, electric performance.
VW says it also has excellent aerodynamics and breaks new ground as an electric vehicle.
Contract hire Volkswagen ID.5
The contract hire Volkswagen ID.5 is powered by a long-range battery and an electric motor producing 174 hp.
There's also a planned GTX version with a 299 hp motor.
There are some similarities with the ID.4 – they share the same platform – and are very similar underneath the body.
Perhaps the most striking difference is the roofline with its rakish and sweeping offering.
ID.5 lease range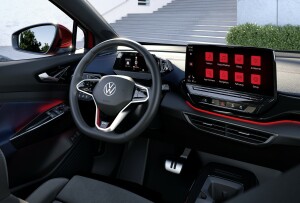 The ID.5 lease range also offers over-the-air updates for its new software generation which comes with additional functions.
Among the innovative offerings is 'travel assist' which utilises data from other Volkswagen vehicles to improve the driving experience by alerting drivers to potential road hazards or delays.
The new e-SUV coupe will be officially launched early next year and there will be three power variants to choose from.
And the futuristic design includes LED technology with light strips fitted to the rear, and there's an option to fit them to the front.
VW ID.5 has a vehicle dynamics manager
Handling has been improved for the VW ID.5 with a vehicle dynamics manager that controls the chassis and drive systems, and there's also the option of adaptive dampers to boost the driving dynamics.
The boot size is 549 litres, and the interior has been completed with premium materials.
VW is also using the modern digital cockpit as a way to offer a high-resolution multimedia infotainment system with excellent visuals.
There's also the innovative augmented head-up display to access the car's vital information.
For those who are looking for a stylish contract hire EV, there's no doubt that the impressive Volkswagen ID.5 car lease range is certainly worth investigating.