The luxurious Mercedes-AMG SL car lease range is instantly recognisable and has become an iconic vehicle.
The carmaker says the new version is suitable for everyday use and offers all-wheel drive to deliver power effectively for the first time.
Control and stability have been boosted with active ride control and an active anti-roll stabilisation system.
There's also rear-axle steering and the option of AMG ceramic composite brakes to boost stopping power.
Contract hire Mercedes-AMG SL
The contract hire Mercedes-AMG SL uses a V8 twin-turbocharged 4.0-litre engine to deliver the strong levels of performance.
The hand-built engine is available with two outputs of either 585 hp with torque of 800Nm, or 476 hp with torque of 700Nm.
The more powerful version will sprint from 0 to 62 mph in just 3.6 seconds, while the less powerful version will do the sprint in 3.9 seconds.
Fuel consumption is around 20 mpg, with emissions of 268g/km.
Mercedes says it has a powerful hybrid alternative in the pipeline that will be offered "at a later date".
SL has an electric-powered soft top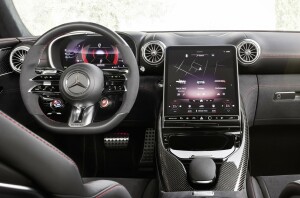 The new SL has an electric-powered soft top rather than the metal vario roof previously.
This has seen a reduction in weight and a lower centre of gravity to boost handling and driving dynamics.
Closing and opening the roof takes 15 seconds at speeds of up to 35 mph.
The handling has also been boosted with the all-wheel drive system called AMG Performance 4Matic now being offered as a standard feature.
This is an intelligent system offering full torque distribution to the rear and front axles to boost traction.
Mercedes-AMG SL lease delivers
The Mercedes-AMG SL lease delivers driving thrills with six driving modes from comfortable to dynamic.
The modes will tailor the car's handling to suit different driving conditions and there's electronic stability control that will intervene to control each wheel if it detects the driver is losing control.
For example, when cornering at speed, the brakes will intervene at the inner rear wheel for precise entry and responsiveness into the bend and out again.
The Mercedes AMG SL car lease model is an impressive creation and as a contract hire choice, it's an excellent sporty model to impress.