The specification for the new Citroen C5 X car lease range has been revealed and it delivers on comfort.
Delivering the ultimate in comfort is the main aim of the Citroen C5 X which is a grand tourer worthy of the name.
The dashboard has been created to offer a large open living space, and there's plenty of room for those in the rear seats too.
There's also plenty of headroom and the driver and passengers get to enjoy advance comfort seats that use high-density foam to deliver comfort, particularly over long journeys.
Contract hire Citroen C5 X Hybrid
The contract hire Citroen C5 X Hybrid offers a plug-in powertrain and will set off in electric mode.
This means that most everyday journeys of up to 34 miles can be done in silent electric mode to deliver a smooth and comfortable ride.
The dashboard is dominated by a 12.0-inch high-definition display with an excellent user experience.
The 7.0-inch digital instrument display is easy-to-use and there's an extended head-up display so the car's important information can be projected onto the windscreen.
Infotainment system uses voice recognition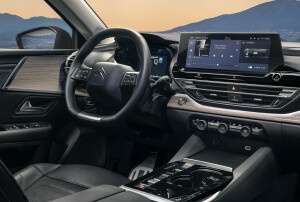 There's also an infotainment system that uses voice recognition so drivers can interact naturally and easily with their car.
This is also a quiet car – Citroen says it has looked at the acoustics and has now introduced laminated rear and front windows for better insulation.
They say the C5 X is the best for acoustic comfort in its segment.
And in a bid to boost comfort, Citroen says that this is a bright cabin using 360° glass including the large glass sunroof in some models and the rear quarter panel windows.
The interior is highlighted with adjustable ambient lighting and some storage compartments are also illuminated.
Citroen C5 X lease delivers
However, the Citroen C5 X lease delivers a smooth ride thanks to the active advanced comfort suspension.
This offers continuous active control and will analyse the road surface ahead to determine the suspension's firmness settings for each of the wheels.
The system utilises the progressive hydraulic cushions that are fitted that then reduce body roll and boost body support when heavy loads are being carried.
The bottom line is that the contract hire Citroen C5 X uses technology to deliver superior comfort for everyone onboard to make this a very comfortable and easy car to live with.