The Kia EV6 car lease will undoubtedly shake-up the crossover SUV market with a great long-range offering.
However, the standout feature for EV6 is the 800V ultra-fast charging system onboard to make recharging the battery quicker – much quicker than most rivals.
And that includes more expensive electric vehicles from rival manufacturers.
This means that the 800V capability will see the battery being recharged to 80% of its capacity in 18 minutes.
Contract hire Kia EV6
The contract hire Kia EV6 is the first dedicated battery-powered model on the firm's new modular platform.
This delivers more space in the cabin and brings other advantages, including a boost to the handling.
There are two electric powertrains to choose from launch, including an all-wheel drive version and RWD with the power being sent to the rear wheels.
It helps too that a 77.4kWh lithium-ion battery pack has been fitted as standard to offer a range of 328 miles.
Drivers get to 12.3-inch displays that form a curved display that is fitted as standard, and the infotainment system is smartphone compatible.
Some models feature an excellent augmented reality head up display and safety features include forward collision avoidance assist, lane follow assist and there's a reversing camera system with rear parking sensors.
There's also an autonomous parking system for those tight spaces fitted on some models and some also feature a premium sound system.
EV6 lease model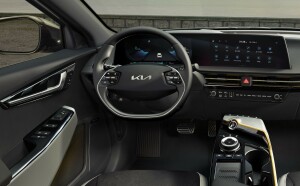 However, the EV6 lease model also offers impressive levels of performance with 226 bhp of power and torque of 350Nm in the RWD model.
This will see the car sprint from 0 to 62 mph in 7.3 seconds, and then onto a maximum speed of 114mph.
The AWD EV6 has 321 bhp of power on tap thanks to the dual motor setup and torque of 605Nm.
It will complete the same sprint in 5.2 seconds with the same top speed.
The EV6 GT will offer 577 bhp
And later next year, we can expect the EV6 GT which will offer 577 bhp and torque of 740Nm.
The final figures are still to be ratified but drivers can expect a sprint of 3.5 seconds and a top speed of 162 mph.
Alongside those excellent performance figures, the Kia EV6 is packed with equipment and offers an impressive battery-powered car for those wanting to make the switch in an excellent package.
Indeed, the Kia EV6 car lease range will set the standard because of the price, the equipment and the 800V recharging capabilities.