The all-new Dacia Sandero car lease is a great offering for those wanting to enjoy low running costs from their leased car.
Indeed, new figures reveal that the Sandero has the best total ownership costs in its segment.
The data suggest that over 30,000 miles of driving, drivers will save 10.1p per mile over three years.
The ownership costs are based on the repair and maintenance bills and strong residual values – which also dictates how much a car will cost to lease every month.
Engines for the contract hire Dacia Sandero
The engines for the contract hire Dacia Sandero include a 1.0-litre petrol engine producing 65 bhp with emissions of 121g/km.
The Sandero is unusual because it's also available as a bi-fuel offering with an engine producing 100 bhp and emissions of 109g/km.
The range also includes a petrol engine producing 90 bhp and this is available with either a manual or automatic transmission. The emissions are either 120g/km or 131g/km.
All of the engines are solid performers with good progress through the gears.
Plenty of equipment on either of the two trims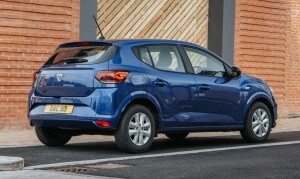 And, for the money, there's plenty of equipment on either of the two trims which are 'Essential' or 'Comfort'.
Drivers get an infotainment system with DAB radio, Bluetooth connectivity and a smartphone app.
Safety features for the Sandero include cruise control, electronic stability control, traction control and an advanced emergency braking system.
The Comfort model adds a rear camera with rear parking sensors and hill start assist.
Sandero car lease range
The new Sandero car lease range has been redesigned from the ground up and offers new LED front lights, a new interior with quality fabric inlays and the latest touchscreen technology.
It also has a well-planted stance when being driven and drivers also have climate control, heated seats and blind spot monitoring.
For those wanting a raised ride height, the all-new Sandero Stepway is also worth considering with a more rugged appearance, body cladding and new exterior detailing features to make it a car to consider.
The all-new Dacia Sandero car lease is certainly worth considering for those who want to enjoy cheap motoring in a car designed to offer a value for money proposition.