The stylish BMW M135i xDrive car lease model has been revamped to deliver a sharper drive and other tweaks.
They include an artificially enhanced exhaust note that is piped through the car's stereo – BMW says this makes the car more 'emotionally engaging'.
BMW has also carried out some tweaks to the chassis to boost its popularity in the premium compact segment.
This is a high-performance four-cylinder model with track-inspired characteristics.
Fuel economy is around 39 mpg, with emissions of 167g/km but this is a head-turning performer.
Contract hire BMW M135i xDrive
Under the bonnet, the contract hire BMW M135i xDrive uses a four-cylinder 2.0-litre unit that delivers 306 hp using TwinPower turbocharged technology.
When the new engine is put under pressure, the artificially enhanced exhaust sound is connected to the throttle pedal so will prompt the system to play it.
An eight-speed automatic transmission sends the power to all four wheels and there's a mechanical limited-slip differential to boost handling.
BMW says that the car is quicker from a standing start, particularly on slippery surfaces.
The wheel slip limitation system also delivers dynamic cornering.
New sporty offering also uses dynamic stability control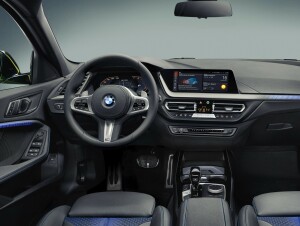 The new sporty offering also uses dynamic stability control and has 18-inch M light-alloy wheels fitted as standard. There's an option of 19-inch alloys instead.
The twin-tailpipe exhaust system helps the delivery of power with reduced backpressure and also delivers an acoustic accompaniment.
There are also new colour schemes to choose from for the 2022 model year.
BMW have now extended their paint shop to deliver special colours since growing numbers of customers are wanting this as a personalisation option.
BMW M135i xDrive car lease
The bottom line for the BMW M135i xDrive car lease is that this is a car to bring a smile to the driver's face.
The sporty performance characteristics underpin BMW's hallmark driving pleasures with excellent suspension and chassis technology.
The damping and spring systems have also been recalibrated to reduce body roll when cornering.
This recalibration can also be enjoyed when putting the car through its paces and to enjoy its sporting abilities.
Since most of the improvements to the contract hire BMW M135i xDrive have been honed on the racetrack, this is a high-performance vehicle that needs to be road tested.