There's a lot to like about the new MG ZS EV car lease range that has been revamped for 2022.
The new model builds on the success of the current ZS EV – which is also the firm's best-selling electric model and is a consistent feature in the country's top 10 bestselling electric vehicles.
This revised model polishes the previous ZS EV with improved performance, a modern design, more technology and a much longer battery-powered range.
Indeed, there's a new 72kWh battery onboard and MG has added a new iSmart connectivity system to deliver an impressive infotainment offering.
Contract hire MG ZS EV
The contract hire MG ZS EV comes with two battery variants and two trim levels.
The trims are the SE and Trophy with the Long Range 72kWh battery offering drivers an all-electric range of 273 miles.
That's a big difference on the current model's 163 miles of range.
There's also a 51kWh battery available that has an all-electric range of 198 miles which will be joining the ZS EV line-up in 2022.
MG has also made it easier to see the charging status of this EV with four-stage indicator LEDs that are placed within the charging port.
Long Range 72kWh battery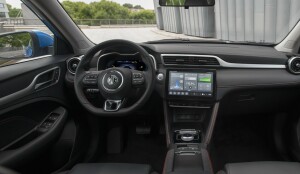 The Long Range 72kWh battery can be recharged to full capacity in 10 hours using a standard 7kW charger.
However, when using the 100kW rapid charger, this time drops to 42 minutes.
There's new improved aerodynamics with the stamped-effect grille and there's a new side-opening charging port too.
Overall, the new MG ZS EV gets a bold new look with impressive LED headlights and daytime running lights.
There are also new wheel designs and a redesigned rear bumper.
Infotainment system for the ZS EV car lease
The infotainment system for the ZS EV car lease comes with improved connectivity, and there's a smartphone app to help control security, climate control and various charging functions remotely.
The infotainment uses a 10.1-inch tablet touchscreen with improved functionality and new graphics.
The latest model also comes with wireless phone charging in the Trophy model, and there's a new instrument cluster to enjoy.
All of the cars in the MG ZS EV car lease line-up come with a seven-year warranty and the ZS EV has proved to be incredibly popular because it's a well-priced offering that is packed with equipment – it's also a nice EV to live with every day.