This is the all-new DS DS4 car lease premium hatchback that has been unveiled.
There are three variants for the premium hatchback, along with an efficient plug-in hybrid, the E-Tense.
There's also a new striking exterior design to help it stand out from a crowded marketplace that brings a distinctive front nose and a new light signature.
The slim headlights have also been complemented with daytime running lights.
These lights help define the profile and the steep rear window rake leads into the car's new rear light signature too.
Contract hire DS4
Along with the plug-in hybrid, drivers can also get petrol and diesel engines for the contract hire DS4.
The plug-in hybrid offers CO2 emissions of 34g/km, and all versions come with the firm's eight-speed automatic transmission.
The interior has also been revamped with refined materials, including Alcantara as well as forged wood and carbon.
There's also new technology, particularly for the segment, including a new HD infotainment system touchscreen that has over-the-air updates.
It comes with natural voice recognition and offers the firm's Iris personal assistant.
Flush door handles and sculpted surfaces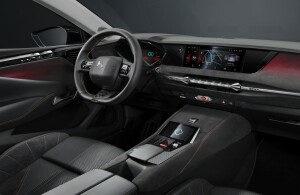 The new model also features flush door handles and sculpted surfaces to enhance its profile.
There are three petrol engine choices along with a powerful diesel unit.
The infotainment system also offers an additional touchscreen that has customisable shortcuts as well as handwriting recognition to make the system even more intuitive.
The model also features special bumpers, contrasting colour roofs and subtle chrome touches.
The DS4 also offers alloy wheels and along with the 10-inch HD touchscreen, there's a seven-inch digital instrument cluster.
Stylish DS4 lease range
Safety features for the stylish DS4 lease range include a head-up display so drivers can keep an eye on the car's vital input information without taking their eyes off the road.
There's also semi-autonomous driving potential and a night-vision system to detect hazards in the car's path.
Drivers also get active scan suspension, another segment first, that uses a camera to scan the road ahead for potential imperfections which will then independently control each wheel to deliver a composed and smooth ride.
As a premium hatchback, there's a lot to like about the DS DS4 car lease range and the new impressive line-up sees delivers beginning later this year.