There's a revised model line-up for the popular Citroen e-C4 and C4 car lease models appearing in 2022.
Not only will the electric model have improved efficiency, but there are also new body colours, and alloy wheel designs.
Citroen says that the driving efficiencies include delivering real world enjoyment for a wide range of driving conditions.
Drivers will still be able to enjoy a WLTP range of 270 miles from the 50kWh lithium-ion battery.
Contract hire Citroen e-C4 and C4
The contract hire Citroen e-C4 and C4 have also undergone various technical enhancements.
The battery-powered version accounts for one in five new C4 orders and the entry level trim, Sense, has extra kit including the firm's 'smart pad support' which is a universal tablet holder.
This features a screen filter so the screen cannot be seen by the driver.
There's also a new passenger airbag that will be deployed over the smart pad support unit should the car be involved in an accident.
Leasing or buying the Citroen e-C4 or C4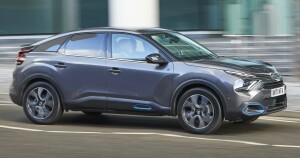 Since most drivers leasing or buying the Citroen e-C4 or C4 tend to choose the upper trim levels, Citroen is improving equipment levels in the entry-level versions.
The firm is also replacing the metallic black body colour with a new version, and all models get improved alloy wheels – the better spec versions have 18-inch aero blade alloys with a bi-tone diamond cup finish that has a clear varnish.
The entry-level model is the C4 Sense PureTech 100 with a six-speed manual box which costs from £21,310 OTR.
The most expensive model is the Citroen e-C4 Shine Plus with zero emissions and it costs from £32,495.
Interior for the stylish C4 and e-C4
The interior for the stylish C4 and e-C4 has also been improved with advanced comfort technology and there's a comfort suspension system to deliver refinement.
Citroen says it is effectively reinventing the hatchback with the stylish new design and new technology.
Even rough roads will be smoothed out thanks to the 'flying carpet' effect of the suspension and the seats have been improved for longer journeys.
The battery-powered version offers, Citroen says, a stress-free environment that's exceptionally quiet and with a smooth suspension and direct acceleration, it delivers real driving pleasure.
There's a lot to like about the new Citroen e-C4 and C4 car lease ranges and they make for sound contract hire choices.