It has been created to explore the outdoors, and the new Toyota RAV4 Adventure car lease model will 'go anywhere'.
The new model broadens the RAV4's market to reach drivers wanting a stylish crossover but with real abilities to be driven off-road.
Drivers also get the efficiency and performance that comes from having hybrid electric tech from Toyota.
Plus, there's a new look for the special version with an all-black grille to create a visual impact.
Contract hire Toyota RAV4 Adventure
Power for the contract hire Toyota RAV4 Adventure comes from the carmaker's fourth generation of hybrid electric technology.
This comes as standard for the RAV4 Adventure, along with AWD-i – which is Toyota's intelligent all-wheel drive offering.
This model features an extra electric motor on its rear axle to deliver the all-wheel drive performance.
Under the bonnet, there's a four-cylinder 2.5-litre petrol unit and the two motors to produce 219 bhp.
And since the RAV4 Adventure has four-wheel drive, it can tow 1,650 kg.
RAV4 Adventure lease model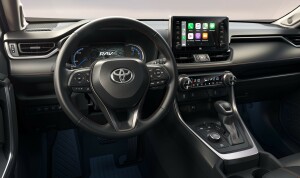 The RAV4 Adventure lease model also carries some exterior tweaks that are being carried across the entire range for the 2022 model year.
These include new 10-spoke alloy wheels, LED fog lights plus LED headlights.
There are also some improvements to the interior with an electrically adjustable passenger seat, LED lighting, USB-C ports to help charge devices and phones while travelling and illuminated window controls.
The new exterior lights help to underline the RAV4 Adventure's stance and its SUV capabilities for drivers to enjoy.
Changes for the RAV4
The latest changes for the RAV4 will help maintain its position as the best-selling SUV in the world.
It was first launched in 1994 and has racked up more than 10 million sales around the world since then.
This is also the first model in the line-up to come with hybrid electric power.
The new Toyota RAV4 Adventure car lease is available to order, and the refreshed model range will begin appearing early in 2022 – with prices announced later.