It could be the car that will change the direction of the carmaker, and the Citroen C5 X car lease range could be the success it deserves.
Citroen says the C5 X has been created to meet changing customer demand and has challenged its designers in the process.
So, here we have a crossover that combines the appeal of an SUV, the elegance of a saloon, while having an estate's practicality.
They say that the design will help create a standard for this part of the car market with ground-breaking exterior design.
Contract hire Citroen C5 X
The contract hire Citroen C5 X is available as a plug-hybrid producing 225 hp and has a battery-powered range of 34 miles.
There's also the firm's new advanced comfort active suspension setup on board to deliver a 'magic carpet' ride.
The body style is muscular but aerodynamic to help boost fuel economy.
The new shape of the lights at the front highlight the firm's new identity and will, they say, make a bold statement.
The rear also has a dynamic look with a steeply raked tailgate window that underlines the silhouette.
C5 X lease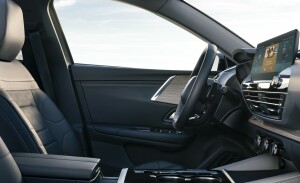 The rear of the C5 X lease shows this is also a practical creation with a low loading sill and a functional and wide opening tailgate for practical and easy everyday use.
Citroen says it has been moved to look at new car designs thanks to the decline of the saloon's popularity and with estates and SUVs attracting buyers who want improved practicality and a more assertive design.
SUVs are now Europe's most common body style for the D-segment and account for 29% of new vehicles. Estates accounted for 27%, and saloons were 21%.
Citroen says this change in buying styles over the last few years is growing with customers wanting spacious and stylish cars, but which still stand out in a crowd.
SUV influences for the stylish C5 X
Among the SUV influences for the stylish C5 X is the raised posture, large 720mm wheels and the driving position is more commanding than that found in a traditional saloon.
It's also a sizeable car which is 1,485mm high and 4,805mm long.
The boot volume is 545 litres and the interior is a spacious place to spend time.
Orders for the new contract hire Citroen C5 X will open in a few months and delivers begin early next year for what is a stylish and well-designed car to lease.