It offers an impressive range of 453 miles, and the all-electric Mercedes EQS lease line-up is available to order now.
Drivers get a lithium-ion battery of 107.8 kW that produces 333 hp.
This is the new flagship for the firm's battery-powered range and it's the first model to be built on the new Mercedes modular platform for executive-class EVs.
The new EQS showcases several innovative new offerings including the MBUX Hyperscreen that has multiple displays that seamlessly merge under a single piece of glass for the curved screen that's just over 140 cm wide.
This is available on the AMG line premium version and costs just under £8000.
Contract hire Mercedes EQS
The new contract hire Mercedes EQS has an onboard charger that enables drivers to recharge the battery to 80% of its capacity in 31 minutes.
Also, 15-minute rapid charge will deliver 186 miles of range.
Standard equipment includes 20-inch alloy wheels, leather upholstery and a panoramic sunroof.
And to help deliver excellent driving capabilities, there's 4.5-degree rear-axle steering.
Drivers also get a flat-bottom sports steering wheel, heated rear and front seats and a 12.3-inch driver display.
AMG Line Premium EQS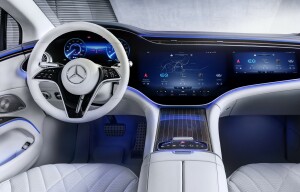 The AMG Line Premium EQS comes with 21-inch alloy wheels, interior active ambient lighting, a 360° camera, acoustic privacy glass and a digital light.
There's also the firm's Driving Assistance Plus, a top-end surround sound system and these extras can be an option for £7,000.
The AMG Line Premium Plus brings the MBUX interior system with gesture control, remote parking functionality, and a head-up display.
The classic style of the EQS
For those who like the classic style of the EQS but with a sporty focus, then the Luxury model adds new upholstery that utilises ship-deck wood, a heated steering wheel, 22-inch alloy wheels and comfort seats with the firm's comfort headrests.
One of the options is the rear luxury lounge package which adds electrically adjustable rear seats with a massage function, there's also a rear armrest with a wireless smartphone charging dock and climate control for those in the rear seats.
All contract hire versions of the EQS have a three-year subscription to the firm's charging network plus a one-year subscription to a wrapping charging network.
Since this is the firm's first all-electric luxury saloon, it's an impressive EV and prices start at £99,995.
That price tag alone means that drivers should look at leasing the Mercedes EQS and the first deliveries are expected later this year.