This is the revamped Volkswagen Polo car leasing model that delivers more technology, a fresh look and new trims.
It's one of the UK's most popular cars, particularly with contract hire drivers, and the high-quality offering makes it a dependable supermini choice.
Now, to help maintain its place as a class leader, the Polo has been enhanced with various innovations and intelligent assistance systems.
There's more equipment onboard fitted as standard, along with a new look and prices start at £17,885.
Contract hire Volkswagen Polo
The contract hire Volkswagen Polo is in its sixth generation currently after making its debut in 1975 and it sold more than 18 million versions.
The latest model still features a three-cylinder 1.0-litre petrol engine with a range of output from 80 PS to 110 PS.
The power is delivered using a five-speed manual box and there's the option of a seven-speed DS automatic transmission.
For those who are interested in the VW Polo GTI, it's still the quickest Polo available and its 0 to 62 mph sprint time is just over 10 seconds.
Polo makes for a good leasing choice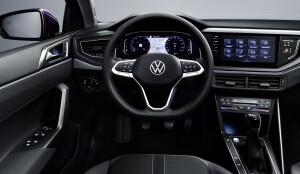 The VW Polo makes for a good leasing choice with fuel consumption of 54 mpg, and emissions of 118g/km.
That's for the engine producing 95 PS with a five-speed manual transmission in the Polo Life.
The equipment list and technologies help make this refreshed Polo stand apart from the version it replaces.
Standard equipment includes Travel Assist so the Polo will be the first in its segment to offer part automated driving abilities.
There's also an 8.0-inch digital cockpit, adaptive cruise control and LED headlights.
'Ready 2 Discover' system
The infotainment uses the 'Ready 2 Discover' system which is smartphone compatible.
Drivers also get intelligent LED matrix headlights which can be set for various driving environments and conditions.
There are also rear and front parking sensors, alloy wheels, climate control and a 10.25-inch Digital Cockpit Pro that has been upgraded for the dashboard display.
For those who are interested in leasing the Polo R-Line then this version comes with bespoke bumpers, 16-inch alloy wheels and distinctive styling to make it as recognisable as its larger siblings.
These include a sporty black roof lining, sports comfort seats and stainless steel pedals – there's also a quad-tailpipe setup.
As one of the most popular contract hire cars, the Volkswagen Polo car lease range delivers a well-made and reliable supermini in a competitive segment.