There's an all-new electric Vauxhall Astra-e car leasing choice joining the eighth generation of what has been one of the UK's most popular cars.
The new Astra will be available with efficient diesel and petrol choices, along with a plug-in hybrid and a battery-powered Astra-e for the first time.
Most models go on sale this autumn with the new car being delivered early next year.
However, the all-electric Astra-e will not be available until early 2023.
Contract hire Vauxhall Astra
For the all-new contract hire Vauxhall Astra with the diesel and petrol engines, they will be mated with either an eight-speed automatic gearbox, or a friction-optimised six-speed manual transmission.
The engines will produce from 110 PS to 225 PS and will be combined with what Vauxhall says will be a superior driving performance.
The plug-in hybrid Astra will deliver the most power at 225 PS and torque of 360Nm.
Fuel economy is an eye-catching 256 mpg, with emissions of just 24g/km.
Hybrid Astra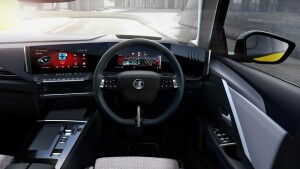 The hybrid Astra comes with a 1.6-litre petrol engine producing 180 PS, with the electric motor adding 110 PS.
The vehicle is fitted with the eight-speed automatic gearbox and the power is sent to the front wheels.
Vauxhall says there will also be another plug-in hybrid available with a slightly more powerful engine.
The plug-in hybrid has a 0 to 62 mph sprint time of either 7.7 or 7.9 seconds, with a top speed of 146 mph – though this is electronically restricted to 140 mph.
The hybrid can also deliver electric-powered driving for up to 35 miles using the 12.4kW battery.
Astra has been a car leasing bestseller
The Vauxhall Astra has been a car leasing bestseller for more than 40 years and there are high hopes for the new chapter.
Along with a sportier appearance, the new Astra has more space in the cabin along with a range of innovations with equipment that is normally added to more expensive vehicles.
Among these will be the latest adaptive Intelli-Lux LED pixel lights, and there's a digital 'pure panel' to replace the analogue instruments.
The display offers modern, fresh graphics and a more intuitive experience.
The new plug-in hybrid Astra will be available from launch with more details about the range's specification and pricing to be revealed later.
There's no doubt that for anybody wanting an impressive electric car to lease, the Vauxhall Astra-e will help the carmaker take a big step forward and it looks set to be a sound contract hire choice.