The new Ford Focus ST Edition car lease model will, the carmaker claims, offer true driving enthusiasts a fun car to drive with an adjustable chassis.
This is the most agile Focus ST produced yet, and along with the adjustable suspension, drivers get lighter alloy wheels for better cornering and response.
Indeed, the vehicle comes with a suspension guide to help driving enthusiasts improve the car's driving dynamics – particularly for the special Nürburgring setting.
Drivers also get to enjoy a Focus ST with a distinctive design in exclusive Azura Blue and high gloss black detailing.
Contract hire Ford Focus ST Edition
The new contract hire Ford Focus ST Edition is a hot five-door hatchback that will deliver the ultimate in track and road driving experiences.
It's only available in a few European markets and prices start at £35,785.
This is the fourth generation of the Focus ST, and the Edition is the most dynamic yet produced.
And it's the attraction of allowing drivers to alter the car's driving dynamics to meet their personal preferences that help it stand out.
ST Edition will deliver better driving dynamics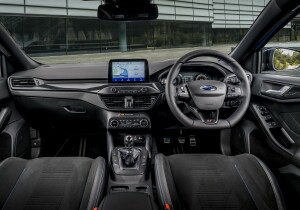 The Blue Oval says that the ST Edition will deliver better driving dynamics and cornering responses with special flow-formed alloys that reduce the 'unsprung weight'.
They do this by compacting the aluminium alloy so it retains its tensile strength while increasing shock resistance by using less material.
Among the sports technologies that have been added, drivers get to enjoy selectable drive mode – including a 'track mode' – and a limited-slip differential which Ford refers to as 'eLSD'.
The new model is only available in hatchback guise and delivers the precision and control drivers are looking for.
The power comes from a 2.3-litre EcoBoost petrol unit that has a six-speed manual gearbox for delivering the power.
Lease the Ford Focus ST Edition
As mentioned, for those who lease the Ford Focus ST Edition, they will receive a technical document that describes the recommended suspension settings to meet a range of driving conditions.
This means that drivers can fine-tune their experiences while behind the wheel and enjoy the dedicated Nürburgring setting.
The engine delivers a 0 to 62 mph sprint time of 5.7 seconds and has a top speed of 155mph.
The selectable driving modes will adjust the limited-slip differential, the electronic power-assisted steering and the throttle mapping.
There's also electronic stability control to keep the car on track and an optimised steering knuckle design for best performance.
For those who want to enjoy a car that's dedicated to driving enjoyment, then the contract hire deals for the Ford Focus ST Edition are worth investigating.