This is the impressive, fleet-friendly Volkswagen Tiguan eHybrid car lease model.
It's the latest addition to VW's plug-in hybrid line-up and offers emissions of just 38g/km.
More importantly, drivers can enjoy fuel economy of 177 mpg, plus there's an all-electric range of 30 miles.
The battery is a 10.4kWh offering that can be recharged at home in five hours when empty.
Contract hire Volkswagen Tiguan eHybrid
The contract hire Volkswagen Tiguan eHybrid uses a 1.4-litre TSI petrol engine and with the electric motor, its combined power output is 245 PS.
Prices start at £35,515 OTR with a Benefit-in-Kind (BiK) tax rate of 11% – which makes the contract hire deals worth searching out.
There's also decent performance with a 0 to 62 mph sprint time of 7.5 seconds, and a top speed of 127 mph.
The torque from the electric motor is available instantly, while the petrol engine delivers torque of 250Nm.
Tiguan eHybrid will automatically select E-Mode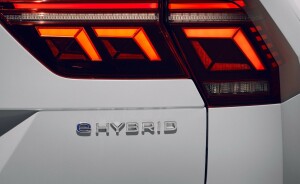 At start up, the Tiguan eHybrid will automatically select E-Mode for utilising the all-electric offering.
That's if the battery has enough power, and the hybrid can travel at speeds of up to 80 mph using all-electric mode.
It's also possible to reserve electric power using a program so return journeys can also be delivered in electric mode.
This is also a well-equipped car with adaptive cruise control, rear and front parking sensors and three-zone automatic climate control.
Volkswagen Tiguan eHybrid car lease
The Volkswagen Tiguan eHybrid car lease also features an 8.0-inch touchscreen with satnav, plus there are LED matrix lights with various lighting modes to meet driving environments.
VW has also added a heating function for the car's steering wheel, and there's an impressive 30-colour ambient lighting system for the cabin.
Drivers will also like the 10.25-inch digital Cockpit Pro display, and a range of systems to assist including rear traffic alert, a rearview camera and predictive cruise control.
The range-topper is the R-Line, and the sporty offering delivers exclusive rear and front bumpers as well as wheel arches, a roof spoiler and black roof lining. It also carries extra kit too.
For anyone interested in leasing a hybrid car, particularly company car drivers, there's a lot to enjoy from the Volkswagen Tiguan eHybrid car lease range.