The main aim of the new Kia EV6 car lease range is to encourage people to rethink their electric vehicle ownership experience.
And for the money, the EV6 offers one of the best ranges currently available with drivers enjoying 328 miles of range.
In addition, Kia is also offering the EV6 with ultrafast 800v charging so drivers can reach 80% of the battery's capacity in 18 minutes.
The firm says their creation is the world's first for multi-charging systems with the option of 400v, or 800v.
Contract hire Kia EV6
The new contract hire Kia EV6 also acts as a portable power pack and can charge electrical appliances – as well as other electric vehicles.
Kia says they've designed the EV6 to deliver what should be the best experience that an electric vehicle can offer drivers – and make ownership as convenient as possible.
The new car has been built on a new platform that has been designed exclusively for the firm's electric cars.
That brings an immediate advantage because they are not adapting an existing platform this been designed for a combustion engine.
As a result, the EV6 offers class-leading space for occupants to enjoy.
Two batteries to choose from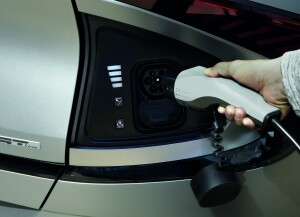 There are two batteries to choose from, either a 58kWh offering, or a 77.4kWh battery offering the long range.
Kia says that the prospect of charging less frequently will encourage drivers to consider EV ownership.
This car also has all-wheel drive to deliver strong performance and grip.
The onboard satnav system also highlights where the nearest charging stations are, including the high-power charging stations in 24 European countries.
Electric system will charge other electric vehicles
As mentioned, the electric system will charge other electric vehicles and also power laptops and even home appliances using an outdoor connector.
The cable control box and a connector sees power being transformed to other electric vehicles – but the EV6's own battery will never drop below 20% of charge when doing so.
The bottom-line is that the EV6 has been designed for ease-of-use and to be functional while being a stylish and well-made creation.
The Kia EV6 car lease range is an excellent electric car to consider as a contract hire choice and should meet most driver's needs.