The new Volkswagen Taigo car lease range is a stylish SUV coupe that will meet the growing demand for this style of vehicle.
Not only will drivers get front-wheel drive, but the crowd-pleasing Taigo offers what is becoming an increasingly popular crossover body style.
It has been designed for use every day, has lots of connectivity and raised seating positions.
The Taigo seats five and the roof slopes at the rear but, VW says, the headroom in the rear seats is not restricted.
Contract hire Volkswagen Taigo
The new contract hire Volkswagen Taigo will use the firm's 1.0-litre turbocharged TSI petrol engine for most models, producing between 94 bhp and 108 bhp.
The Taigo utilises the same platform used for the Polo as well as the T-Cross, and the power is delivered using a five-speed manual box as standard.
There's also the option of VW's seven-speed dual-clutch automatic gearbox for the more powerful engines.
There's also a 1.5-litre TSI turbocharged unit being offered for those wanting more power.
Taigo has the latest infotainment system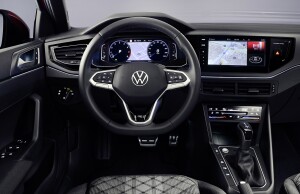 The cockpit is all-digital for the new Taigo which also has the latest infotainment system being offered by VW.
The firm also says that this body shape is a first for the brand and the car is based on the Brazilian sibling, the Nivus.
In addition, the Taigo SUV coupe is being aimed at young drivers, as well as the 'young at heart'.
The interior has a modern look and feel with a multifunction steering wheel and stylish controls.
Online control unit for the stylish Taigo
There's also an online control unit for the stylish Taigo with wireless connectivity using a sim card to connect to various streaming services.
Volkswagen says the system also accesses cloud-based offerings and has natural voice control.
Safety features include a surround monitoring system, city emergency braking and a lane departure warning.
There's also the option of having a semi-autonomous driving system to drive the car at speeds of up to 130 mph.
The new Volkswagen Taigo car lease range is certainly a stylish contract hire offering and it's worth considering for those who want driving style.