While it's only been on sale for a year, the BMW iX3 car lease range has been refreshed.
It now has a more striking appearance and BMW has brought in the M Sport package for the iX3 in the UK.
That means that the SUV has its high specification levels boosted.
Exterior tweaks see a larger kidney grille with Pearl-effect chrome and a blue accent.
The headlights are also slimmer to deliver a sharper look for the new front end.
Contract hire BMW iX3
The contract hire BMW iX3 also gets the carmaker's fifth generation of their eDrive technology.
This also includes an innovative charging unit that sends power to both the 12v onboard power supply, and the car's 400v battery.
The power system sees the battery being recharged to 80% of its capacity in just 34 minutes and should drivers need a quick boost, a 10-minute recharge will deliver 62 miles of range.
The BMW iX3 lease model is now capable of delivering a range of 286 miles.
Refreshed iX3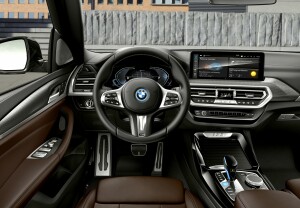 The refreshed iX3 also sees the choice of four metallic exterior paint colours being added, including mineral white and carbon black.
Standard features include an automatic tailgate, 19-inch black aerodynamic alloys, adaptive suspension and a heated steering wheel.
The iX3 M Sport also features a panoramic sunroof.
The interior leather upholstery has a choice of four colours, there's also sun protection glazing, a Sensatec dashboard and ambient lighting.
Drivers also get wireless phone charging, the latest versions of BMW's driver assistance technologies which include parking assist, driving assistant professional and the firm's Live Cockpit Professional.
Lease the excellent BMW iX3 M Sport Pro
For those wanting to lease the excellent BMW iX3 M Sport Pro, they get a top-end surround sound system, a head-up display, the parking system plus as well as gesture control for the infotainment system.
There's also automatic high beam assist, darkened headlights, lumbar support and comfort access.
BMW is also offering access to one of the world's most extensive public charging networks using either a smartphone app or an RFID card.
This means drivers can recharge at 11,000 charging points in the UK from various operators and have access to 173,000 charging points in Europe.
The BMW iX3 car leasing range is undoubtedly impressive, and the new models will begin arriving after September.